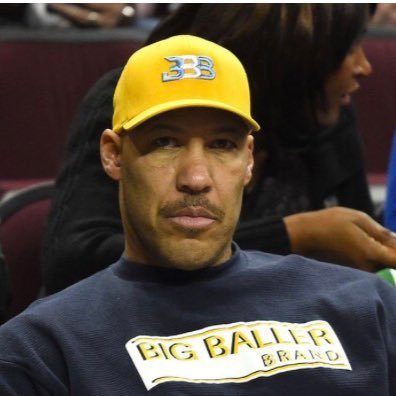 Hey LaVar,
I hope this post finds you well. We've never met, but I've been feeling very compelled to drop you a line. I too am a father and want nothing more than for my kids to one day achieve more than I have in my life. My kids are still young and I'm still learning as I go in life. As you know being a father doesn't come with a manual, and everyone has their own style.
I've fought the urge to post this because I'm in no way a perfect father, and really don't want to pass judgement on another man. However I feel if I don't post this now it might become too late. I know you're all about pushing your brand and hyping up your kids, but you sound like an ignorant jackass! Like I said earlier we all want more for our kids than we ever had, and we all know you were never good enough for sports in the USA. It's exciting seeing your kid on the big stage, but no one wants to hear from anyone's Daddy.
If you're looking for the standard of how a father should act look no further than Archie Manning. Archie has been a silent supportive father through all of his kids careers; with the exception of 1 time when he had a diva moment during the draft for Eli. I know you see it as you're helping him get noticed; franchises see it as unwanted attention that will become a distraction.
Lately you've made some very ignorant comments trying to sell the world on your son. Always deflecting blame when he has a bad game or UCLA didn't win. One of your most ignorant comments had to be when you said in an interview with the Orange County Register that you can't win a championship "with three white guys" like the Bruins had. Ball, who took heat for the comments, said that the white players' "foot speed is too slow." LaVar come on those comments just show how far off base you are. The only thing you're going to accomplish with those comments is hurting your brand, and 100% hurting your sons draft stock.
Look father to father I personally don't think Lonzo is ever going to amount to the hype you've been throwing out there. But if you keep running your mouth he will never get that shot.
I couldn't believe when I heard that you said your Big Baller Brand is going to rival Nike! This came after Nike executive George Raveling, a longtime college basketball coach, recently called LaVar Ball "the worst thing to happen to basketball in the last hundred years."
Let's be real LaVar the only thing your brand is going to rival is the knock off brands at Payless. No one is going to want to align with someone that acts like a belligerent fool like you. I know you think you know all about sports since you spent all that time on the practice squads in the NFL but apparently you don't know jack.
So my final piece advise to you father to father. Let your son have a chance at something in life. Stop riding his coat tails because you never amounted to crap in your life. Do your son as well as the rest of us a favor and SHUT THE HELL UP!
Sincerely,
David