So I was on this website the other day and came across an article about Sam Bradford. Not a legit article about how bad he is, how he can never stay healthy; but rather he has a legitimate chance to win NFL MVP.
Look, the article came out on 4/20 and man the writer must've really been enjoying the day. You have to be smoking some serious stuff to ever think that a no talent sorry excuse for a QB could ever win MVP. Well let me check that, if taking millions of dollars from every franchise he's been a part of, not producing crap because you're terrible and hurt all the time is what they're grading on, then 100% he's an MVP!
I want to be objective so lets take a moment and look back at all the achievements of his storied career.
NFL Offensive Rookie of the Year (2010)
NFL record 71.6 completion percentage, season (2016)
Heisman Trophy (2008)
Davey O'Brien Award (2008)
Associated Press Player of the Year (2008)
Sporting News Player of the Year (2008)
Consensus All-American (2008)
First-team All-Big 12 (2008)
Wow get him a ticket for Canton right away because that is a first ballet resume if I've ever seen one. This guy has never even taken his team to playoffs and you want to say he has a shot MVP. Tim Tebow has accomplished more including beating Bradford for a NCAA Championship! Hell Tebow has even has won in the playoffs and he's hitting baseballs now.
MVP's and winners find a way to win no matter the weapons on their team. Look at Brady and Rodgers, you can't tell me they had amazing weapons every season. Winners win and they elevate the players around them. Bradford has never done that and if you look over his stats he has a pattern, good year, bad year then injury.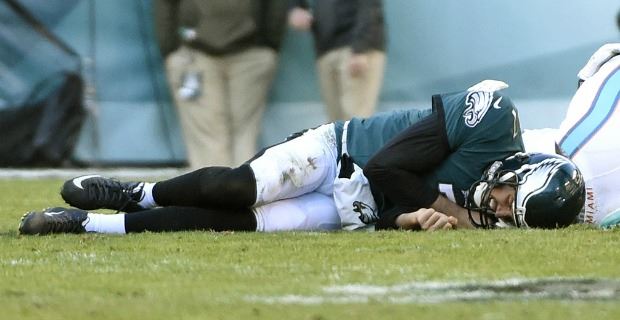 Bradford had a chance to get the Vikings to the Playoffs last year and after starting 5-0 they proceeded to go 3-8 for the remainder of the season. Bradford even had a shot at redemption against his old team the Eagles, and he had 3 turnovers that game. The same thing happened against the Lions and the Packers. Winners win and I'm sorry to break it to the author of the previous article and Viking Nation but Bradford will never deliver in the clutch, and he damn sure will never be the MVP.
It's too bad Bridgwater is still recovering because the Vikings will need a new QB this season. It's about that time for Bradford to be the MVP of the trainer's office. Hell maybe you can call Tebow, Kaep, or RG3; all QB's that have accomplished more than Bradford ever has and ever will!